Situated in the heart of South Yorkshire's historic market town, the new Mercure Doncaster Centre Danum Hotel has now opened its doors.
The opening is a result of an extensive refurbishment of The Danum Hotel, which dates back to 1809. The historic and well-loved hotel is now part of the Mercure chain, an international brand managed by Accorhotels.
MatthewsMee have over 20 years experience in creative hotel and leisure interior design and architectural solutions. MatthewsMee are based in Wakefield, North Yorkshire but cover the whole of the UK, Europe and beyond in terms of projects. The company is headed by Rob Matthews, Creative Director, Nick Mee, Projects Director and Katie Stammers, Senior Designer.
Premier Hospitality caught up with Senior Designer, Katie Stammers, to discuss the hotel refurbishments. Katie told us:
"The entire hotel has been designed and refurbished including 72 bedrooms, Grand Ball room, the newly named Anthony's bar and restaurant, meeting rooms and public spaces. MathewsMee were appointed on the project during February 2015, with the renovation complete by October.
"The brief was to create a space that told a story about its local history – for example with the public spaces we drew inspiration from Doncaster race course and subtly translated this through the artwork and 3D dressing."
Located in the heart of the town centre and a short walk from the rail station, the Mercure Doncaster Centre Danum Hotel is a lavish site from which guests can explore Doncaster, with its Regency buildings, Norman castles, and rich horse racing heritage as well as great nightlife and shopping.
The hotel's bedrooms offer an eclectic mix of elements that reflect contemporary and traditional in style, with each boasting intriguing décor, LCD TVs and comfortable Hypnos beds. 15 privilege rooms and two luxurious suites also feature within the hotel for guests whom wish to indulge in a stay of splendour.
Anthony's Bar & Restaurant, named after Lieutenant-Colonel Anthony Ledger – founder of the St Leger Stakes horse race – is the brand new addition to the hotel. A contemporary yet casual eatery that sits on the ground floor level, quirky design features include equestrian themed artwork, colourful rosettes and jockey whips, based on inspiration from the racecourse itself.
Diners can look forward to local, seasonal produce, including the fresh ingredients that Yorkshire is renowned for, with all meat sourced from butchers and farmers in the area. Dishes include classics such as Steak and Ale Pie, Deep Fried Haddock and gourmet burgers, as well as paninis and salads for a lighter option. Sticky toffee pudding and chocolate fudge cake feature on the tempting desserts menu.
Additionally, there is also the new 'Merchants Bar' that has been refurbished within the hotel and transformed into a stylish cocktail bar, perfect for after dinner drinks and ladies nights.
Katie commented:
"The Danum was an interesting site from the start with bedrooms and public areas to address in a tight time scale and it has gone through quite a transformation since February; everyone's hard work has paid dividend to the finished results."
MatthewsMee have also recently successfully completed Hotel Indigo York, as well as working on another Indigo in Edinburgh, with others in the pipeline. The design establishment are also currently developing a site for the prestigious hotel brand, Hilton.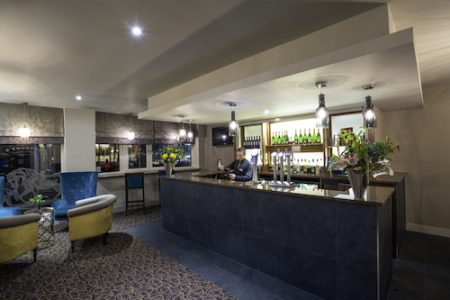 Themed Leisure
Themed Leisure is an art & interior décor sourcing company, providing clients with a range of services, from art, sculpture and planting, to bric-à-brac, bespoke wallpaper and unique interior décor. The company has been in operation since 2004 and within this time has worked with a range of prestigious clients including P&O Cruises, Norwegian Cruise Lines, Indigo Hotels and Splendid, as well as large nightclub operators including Lunimar and Deltic and breweries including Green King and M&B.
Most recently, Themed Leisure has been involved in the Mercure Doncaster project, providing the hotel with a range of artwork and 3D décor for the ground floor public areas and corridors. Artwork included hand drawn horse wallpaper, converted to digital graphics for printing; oversized framed prints; box framed horse whips & rosettes; incredibly detailed iron wallpaper; and a collection of vintage racing badges, all arranged and framed within bespoke box frames.
Lyndsey Markland of Themed Leisure, said:
"We have had the pleasure of working with this hotelier on a number of occasions and their commitment to creating interesting and vibrant spaces means we get to be involved in projects that really get our creative ideas flowing."
Lyndsey added:
"At Themed Leisure we never stand still. We are continuously working on how to create new and exciting art and décor for our clients, with more than 90% being repeat customers for six years or more. We also post regular updates on our Facebook page, with images and case studies of our work, with almost all projects being unique works."