Individual Restaurants
One of the UK's leading restaurant companies, Individual Restaurants is responsible for a stunning collection of eateries which includes Piccolino, The Restaurant Bar & Grill, Bank Restaurant & Bar, and its latest addition, Gino D'Acampo My Restaurants.
Serving seasonally inspired cooking and providing an unrivalled service is part of the Individual Restaurants' ethos, altogether within fantastically designed restaurants, each boasting its own individual character. An experienced team of chefs prepare all of their dishes from scratch daily, using carefully sourced ingredients, resulting in an appetising culinary journey for every diner to enjoy.
The introduction of Gino D'Acampo 'My Restaurant' at Euston began on site in August 2015, and is situated within the mainline train station at London Euston, on the new Mezzanine floor. Excitingly, the Italian restaurant is due to open in February this year. Accommodating 139 covers in total, Gino D'Acampo Euston is split between internal dining and concourse seating. This is the second in the 'My Restaurant' offering by renowned chef, Gino D'Acampo and follows hot on the heels of its Manchester counterpart.
Set within the historic Corn Exchange building in Manchester City Centre, Gino D'Acampo Manchester began on site during September 2015, and was finalised in December. The fabulous diner is set in the former Zinc unit, and is the first 'My Restaurant' in the Gino D'Acampo portfolio. This particular site can accommodate 148 covers, in addition to 30 external dining covers on Exchange Square.
Both Italian restaurants feature cool interiors which mix a blend of white washed timber plank, marble and raw steel to produce a rustic, industrial feel. This is accentuated with neon feature signage and displays.
The sites are designed with the kitchen in mind, with a focus on the deliciously fresh pasta and pizza that the menu offers. At the Gino sites, the bar and kitchen are given equal prominence. Stylish oak seating with custom green leather is tailored by Muirhead to the restaurant branding, and the focal feature of the Manchester restaurant remains as the Friends and Family wall, which showcases a large number of celebrity 'selfies' and photographs taken by – and including – Gino D'Acampo. Customers also have the opportunity to pick up signed copies of Gino merchandise, which is on display throughout the site.
Gino's restaurant promises to serve honest Italian food, maintaining a sense of authenticity as well as high quality – whilst ensuring that prices are affordable. Well-sourced, seasonal and artisan ingredients are incorporated within the tasty dishes, showcasing Gino's vast contacts across the diverse regions of Italy.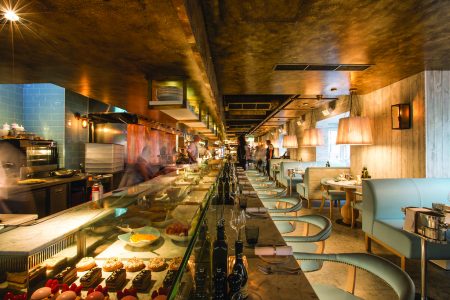 The menu offers bruschetta and antipasti dishes such as king prawn bruschetta, calamari served with garlic mayonnaise and lemon, arancine, and parma ham with melon. Delicious mains include chicken arrabbiata, herby veal meatballs with parmesan cheese and pine nuts, seabass with Italian salsa and lemon; and 8oz Aberdeen Angus rib eye steak served with gremolata and hand cut chips. Tasty pasta and risotto dishes are on offer as well as pizzas and salads too.
Following a delicious main dish at Gino's restaurant, guests have the choice of a wonderful assortment of desserts, including the classic tiramisu – made with Amaretto and coffee; panna cotta with passion fruit sauce, chocolate fondant, and a variety of irresistible ice creams and sorbets made in house to Gino's special recipes.
There is a range of drinks and bar snacks available at the swanky diner, including draught and bottled beer and cider, spirits, juices and various teas and coffees. Guests can order bread and olives in many forms, such as succulent Italian breadsticks wrapped in Parma ham with creamy pesto dip; Italian breadsticks with tomato tapenade, and chilli, garlic and rosemary olives. An extensive wine list is available for guests to peruse, and a number of cocktails are on offer for a touch of fun and extravagance.
Commenting on the brand new menu available at both locations, Gino D'Acampo, said:
"I'm excited to have created the brand new menu for 'My Restaurant'; it is jam packed with lots of favourites from my books and TV programmes. I hope my guests enjoy it as much as I enjoyed creating it."
Gino made the move into fast casual dining in 2013 with the launch of Gino D'Acampo – My Pasta Bar, serving a variety of Italian favourites – including handmade pasta dishes and hand-stretched pizzas – to eat in or take away. Three London locations are currently operating at Fleet Street, Leadenhall Market and Bishopsgate.
Served until 11am, the breakfast menu includes options such as pancetta and egg breakfast roll, mozzarella and tomato croissant, Nutella and banana muffin, and mini pastries. Lunch dishes are served until late and include Bolognese, carbonara, king prawn pesto pasta and beef and pork meatballs in a tomato basil sauce, served with pasta. Risotto and a number of pizzas are also on the menu, alongside assorted salads and paninis.
Also part of the Individual Restaurants portfolio, Piccolino Alderley Edge occupies the ground floor of the former Panacea site on London Road, which was unfortunately devastated by fire. The refurbishment is representative of a new design concept for Piccolino in which the theatre of food preparation and cooking takes centre stage.
The restaurant serves a wealth of delicious Italian inspired cuisine in the form of lunch and dinner, until late. Excitingly, a breakfast and brunch menu was launched last month, offering a range of favourites from irresistible waffles to a hearty Piccolino full cooked breakfast.
Seating 250 guests, the Italian diner features a 20 metre open kitchen, wine boutique, island cocktail bar, and private event space for those who desire a more exclusive experience.
Developments on the Alderley Edge site took place in summer 2015, and the project was complete in time for the restaurant to be open at Christmas. Piccolino boasts a large al fresco bar, which sits within the heated externalised room to the front of the building.
Sophisticated and contemporary interiors are what Piccolino presents, with a traditional undertone, combining white washed timber, white marble, pebbles and brass. The restaurant features elegant oak furniture, with bespoke blue leather throughout, and an open kitchen to add a sense of theatre to the space. Counter deli fridges containing irresistibly fresh, daily produce are also on display.
Emanating the feel of a Harrods food hall, guests can relax whilst watching the chefs in action from the working food displays. The impressive kitchen includes a salad bar, Sommelier, fix and shellfish bar, meat and poultry bar, pizzeria, pasta bar, pasty and ice cream bar. The majority of the cooking at Piccolino Alderley Edge is performed on a bespoke open charcoal and wood burning grill, or one of three handmade Italian wood burning ovens, that act as the focal points within the venue.
Passion for provenance is at the forefront of the menu, as a key principle that Piccolino maintains. The restaurant has close links to artisan suppliers all across Italy, transporting an assortment of the best cheeses, salamis and grocery items to the UK. Boasting its own butchery in Cheshire with a team of nine full time skilled butchers, Piccolino sources the very best meat and poultry directly from farms.
Specialising in certified Black Aberdeen Angus, all of the beef served at Piccolino is sourced directly from carefully selected farms across the British Isles. Individually selected cattle are hung for seven to ten days and dry aged on the bones for a minimum of 35 days in the restaurants own bespoke Himalayan pink salt brick, dry ageing room.
In addition to this, the menu has an extensive selection of wild shellfish sourced mainly from the clear waters of the UK via small independent suppliers. Similarly, seasonal fruit, vegetables, salads and herbs are from hand picked growers and organic wherever possible.
Speaking to Premier Hospitality, Ian Garraway, Architect at Carroll Design, said:
"A Sommelier area is created at the entrance of Piccolino, greeting guests up on their arrival and allowing them to peruse the wine selections within the restaurant. A specialist wood burning grill takes centre stage in the restaurant, which was made as a bespoke unit for the group. White rope light fittings provide a homely ambience throughout the space."
Carroll design is an interior design practice established in 2004, led by Bernard Carroll. The practice specialises in high end hospitality and luxury residential interiors, and is involved with projects across the globe. The team at Carroll Design have successfully carried out the architecture and interior design of the three restaurants, delivering talent and skill.
With regards to all three Individual Restaurant sites, Ian commented:
"All of these sites represented a step change for the operator in terms of operation and ambience. It is exciting to be involved with projects where the client gives great freedom, and value to the process of design. The projects are a culmination in a lot of hard work from all parties."
Carroll Design's relationship with Individual Restaurants is a long standing one, having previously worked on a number of projects together.
For more information about Individual Restaurants, please visit: www.individualrestaurants.com.
Blacka Group
Based in Stockport, Blacka Group specialise in the hire, manufacture and installation of audio visual (AV) and lighting equipment for use within the corporate, hospitality and leisure sectors. Services include the manufacture of flight cases and speaker cabinets; the installation of sound, light and AV solutions; the hire of sound, light, AV and stage equipment; and the support and maintenance of all products via the group's specialist maintenance division, Sure Cover.
Blacka Group has been in operation for 16 years and within this time has worked on many prestigious projects, including Tattu, Manchester House, Yu & You, The Alchemist, Gotham hotel, Gusto, Restaurant bar and grill and Bourbon & Black, to name a few.
Most recently, Blacka Group has been involved with Piccolino and Gino D'Acampo's for Individual Restaurants. Working on these projects, Blacka Group designed, manufactured and installed the audio solutions for each restaurant.
Blacka Group Managing Director, Craig West, commented:
"It is great to be involved with such prestigious projects such as Piccolino and Gino D'Acampo's."
Craig added:
"At Blacka Group we pride ourselves on the aesthetics of our installations. We never just place our speakers in random positions; we design our systems for optimum performance and work closely with interior designers to ensure that all equipment is incorporated into the overall design scheme."
Harvey Environmental Services
Harvey Environmental Services specialise in commercial Pest Management and Washroom services, delivered on a scheduled planned maintenance basis to help maintain pest free conditions and clean and pleasant washroom environments. The company has been in operation since April 2001, and admirably, has won numerous awards throughout its history.
Currently working with 1300 regular clients all over the UK, Harvey Environmental Services' clients range from the smallest "corner sweet shop" to large multinational companies.
Premier Hospitality caught up with Martin Harvey, Managing Director at Harvey Environmental Services, to discuss the company's involvement with Piccolino Alderley Edge and Gino D'Acampo Manchester. Martin said:
"We look after all of the Individual Restaurant Company sites as far as preventative Pest Control is concerned. We supplied several high quality discreet Ultra Violet Fly control units for the food preparation areas as well as installing our pest control system internally and externally at Piccolino Alderley Edge and Gino Manchester.
"Piccolino and Gino are restaurants at the top of their industry – who wouldn't want to be involved with them?"
When asked what the company prides itself on, Martin replied:
"We deliver outstanding customer care – once a customer comes on board with us we move heaven and earth to look after them and to keep them as a customer – we want a long term business relationship so we do what we say we are going to do – and then do some more – going the extra mile is standard for us and maybe because of this approach we win most of our business by recommendation."
Oakes UK
Oakes UK are Electrical Contractors, working across a number of sectors including hospitality and leisure. In 1998 Peter set up Peter Oakes Ltd and the small operation quickly gained a reputation for being a reliable and efficient electrical engineering company. Demand quickly escalated and Peter was able to steadily expand the team and its range of services.
In 2014 the company was rebranded as Oakes UK – a reflection of the company's expansion nationwide. Peter realises the importance of training and the impact this will have on both his staff and his clients to this end he has committed to taking his team of already highly qualified staff through latest regulatory courses namely the Amended 17th edition of the IEE wiring regulations, Testing and inspecting, Compex 7 & 8 and the UKPIA HSE certifications.
The company work closely with IRC across a number of projects, including Brew Dog and Las Iguanas as well as Piccolino and Gino D'Acampo. In 2008 Peter Oakes met Alan Ritchie head of estate operations for IRC, and quickly offered his energy saving solutions as well as doing call outs which couldn't be done by their existing electrical contractor. Now Oakes UK work in hand with IRC as their electrical contractor.
Peter Oakes said:
"For us as a business it's great to be associated with a high profile brand which has such a presence in the hospitality industry. To be able to use their name as an example of what we do for future employers is brilliant for us."
Shading by Design
Shading by Design has helped to transform business opportunities in hundreds of commercial establishments in the UK since 2004 and has turned unproductive space into a truly attractive and profitable areas.
The company's aim is to improve the design and installation of outdoor areas using high quality products and to offer a complete maintenance and repair package throughout the leisure industry.
Shading by Design offers an unrivalled range of products to suit all types of premises, from Retractable Roof Systems, awnings and umbrellas with specialised heating and lighting systems, to specially developed screens, plus a comprehensive range of timber and composite decking, hard paving and all the furniture, planters, and accessories clients need to create a superb al fresco environment. Whatever a client needs, Shading by Design has something available, from a one-off umbrella to a total refurbishment.
Hotels, restaurants and pubs are discovering the benefits of a more sophisticated solution to their al fresco areas. A permanent structure with retractable roof and the options of folding sliding doors, drop screens, lighting, heating including eco heating, flooring including slabs, tiles, wood and vinyl plank all go to make a versatile solution.
Shading by Design has installed retractable roof systems for Individual Restaurants at Piccolino Alderley Edge, Piccolino Bramhall, Hale, Stockton Heath, Virginia Water and Restaurant Bar & Grill sites in Alderley Edge and Manchester with more projects in the pipeline
The benefits of a retractable roof mean the best of both worlds, letting the sun shine in on those precious summer days, but keeping it cosy and warm for the rest of the year.
One of Shading by Design's first installations was at the Radio Bar at Hotel Me on the Strand. This project involved lifting the system up to the 10th floor roof terrace.
Tony Reynolds of Shading by Design, commented:
"This project offered great views from the top, but a few nail biting moments watching it swinging above the London skyline! Two systems were installed on the two terraces opening out from the bar."
Meanwhile, working with loyal customer, Ocean Beach, in Southend-on-Sea, Shading by Design installed a patiola terrace awning in 2009 and then replaced it in 2014 with a Loca Terrace awning.
Tony said:
"Our next major project at Adventure Island in Southend-on-Sea led to several other installations all from a recommendation by the owners of Ocean Beach. A large decked area at this leisure park had umbrellas but the owners wanted a versatile extension to their restaurant. We installed a Loca Terrace awning and folding sliding doors to a decked area and also enclosed a further decked area to the rear of their fish and chip shop."
Foxton Locks Inn near Market Harborough is another loyal customer for Shading by Design. Originally, Shading by Design installed giant umbrellas at Foxton Locks Inn in 2007, before updating them with sliding screens in 2009 and replacing the umbrellas with a superb Loca Terrace awning in 2014. This installation incorporated a heat source pump, sliding doors and roof mounted lights.
More recently, Shading by Design completed work on the Boathouse Café on the Barbican, in Plymouth.