Dollar Bay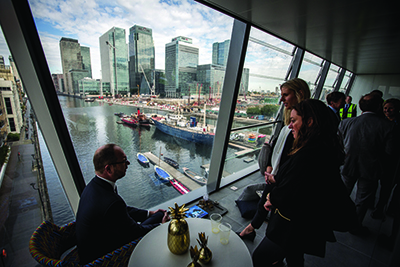 Dollar Bay is a spectacular 31 storey 18,970 m² sleek glazed residential luxury tower development of 115 studio, one, two and three-bedroom apartments and penthouses. Created as part of a joint venture scheme by Citystyle Homes and Mount Anvil, the project has seen the creation of stunning living spaces in a sought-after area and has achieved two top awards in the process.
The first award – the NHBC Pride in the Job Award – was given to Site Manager Michael Rolfe during summer 2016.
Speaking to Premier Construction at the time of the award win, Michael Rolfe said: "Right from the beginning we made sure that we understood the high levels of quality that the inspectors were looking for, and worked towards that. Fortunately, we have a good team with some very good contractors on board who were able to deliver a high standard of quality work."
Michael added:
"Good communication and good teamwork with a high level of respect for one another from the top down and the bottom up were high on the agenda in achieving the award."
More recently, Michael and his team have been awarded the prestigious Seal of Excellence Award – joining only 12 other site managers in the London region to receive the award. The Seal of Excellence Award is a fantastic achievement for all involved and highlights the attention to detail that has taken place on Dollar Bay.
Unhindered by neighbouring buildings, Dollar Bay's prime location at the foot of the South Dock makes for unrivalled panoramic views. The development, one of the most sought-after new residential builds in London, was designed by international award-winning Simpson Haugh Architects, (formerly Ian Simpson Architects) and features a stunning glass facade rising from the water's edge, reflecting the changing light and providing a striking, iconic addition to the Canary Wharf area.
The individual panes of glass in the facade are angled in such a way as to maximise views from every part of the building. Simpson's innovative use of glass – the same as is used in The Shard – have created a distinctive crystal effect that reflects the surrounding sky and water, substantiating Dollar Bay's claim to being the most innovative addition yet to the Docklands skyline.
Elegant, modern and uncomplicated, each apartment at Dollar Bay boasts its very own winter garden and beautiful, high contrast interiors with an emphasis on creating an easy flow of light throughout. The winter gardens are enclosed behind operable louvred glass and can be accessed from both the living room and bedroom of each apartment via glazed sliding doors.
In addition, the development features a beautiful communal garden for residents. Designed by landscape architects, Spacehub, in response to the waterfront setting, the garden provides a calm oasis in which to relax and unwind and incorporates mixed zones, considered planting and feature lighting.
Other communal facilities include a residents' lounge area and a gym with views towards the dock and featuring a range of cardiovascular and free weight equipment, together with changing facilities.
The entrance lobby has been created to enhance the arrival experience and features a glazed link to the mezzanine level, a bespoke sculptural wall/soffit feature with coordinated reception desk and carefully selected complementary furniture, as well as two passenger lifts.
Mount Anvil is central London's specialist residential developer, and has been creating homes and communities that people want to live in since 1991. Together with their joint venture partners, Mount Anvil have built more than 5,000 London homes, and plan to build 2,000 more by 2018.