Adare Manor Announces Ground Breaking Expansion

Famed Castle & Golf Resort Sees Largest Refurbishment of its Kind in Ireland
Adare Manor, one of Ireland's most renowned resort hotels with a list of prestigious accolades nearly as long as its history has announced a multi-phase transformation to restore the property to its century splendour. To maintain its commitment to providing guests with unrivalled facilities and services, Adare Manor closed its doors in January 2016 for an 18 month intermission and will debut its new look in Autumn 2017.
Adare Manor is situated in the heart of Adare Valley in County Limerick. Undertaking the largest restoration project of its kind in Ireland, spearheaded by acclaimed architects RSA, the renovation and expansion will honour the buildings architectural heritage as a Neo-Gothic masterpiece, while incorporating the latest in contemporary luxury. The refurbishment will also embody the hotels signature style, while incorporating the contemporary luxuries and technological conveniences necessary to meet the needs of today's luxury traveller. The restoration involves internal finishes, furniture and woodwork and repairing external stonework to windows.
Most notably the expansion will include a new 42-bedroom wing, bringing the total room count to 104 guestrooms including the existing Manor House accommodations. An expansive ballroom will also be added, with capacity for 350 guests for weddings and special events. Both structures will be clad in limestone, a tribute to the detail of the original manor house.
"This is an exciting new beginning in Adare Manor's grand history," said Adare Manor's Anita Higgins. "We have woven the multiple Adare stories into the fabric of the new additions to stay true to our roots and celebrate the history and heritage of Adare as part of this glorious new phase. It's wonderful to see how the vision for the hotel has started to unfold bringing us to the next chapter in Adare's legacy."
Plans are also in place for a complete redesign of the golf clubhouse by David Collins Studio London. In order to complement the significant improvements to the manor house and overall resort experience, world renowned golf course designer Tom Fazio has been engaged to oversee a comprehensive design of the golf course, which when complete will take its place among the finest golf courses in Europe.
Each hole of the golf course at Adare Manor will have distinct character and strategic playability options for a complete and exceptional golf experience for all levels from forward tee to back tee players – where any hole could be the signature hole. In addition to incorporating basic qualities for majority of golfers, Fazio was also charged with considering the design strategy and infrastructure commitments necessary to host premiere amateur and professional golf events.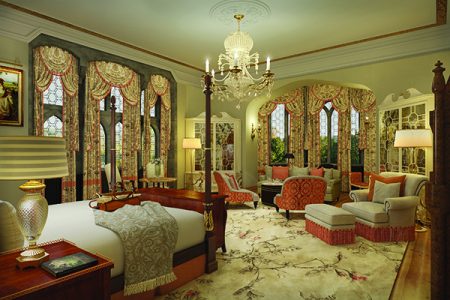 "We are extremely honoured to partner with Tom Fazio on the creation of what will be a very special golfing experience," said Colm Hannon, Chief Executive Officer at Adare Manor. "Mr Fazio's reputation as an exceptional course designer precedes him and our guests and members will benefit from his expertise and passion for creating stunning yet sustainable golf courses."
Considerations will be made for drainage, new irrigation and water delivery as well as sand capping of all fairways and roughs for the driest playing conditions. Construction will include greens and bunkers as well as significant underground installations for drainage and wiring for tournament power, media and telecommunications. In addition, Fazio will account for hospitality and infrastructure of roadways and access areas for major golf events and operational usage.
"The course will be a total tribute to the vision and commitment the McManus family has for the region and Ireland. Our goal is for golfers to remember this course as one they dream of playing time and time again," said Faizo.
In addition, the existing Manor House will enjoy a new state-of-the-art spa, pool and relaxation area, bedroom and cinema, while Adare Manor's 800 acres of beautiful parkland, walled gardens and walking trials will be enhances for guest enjoyment.
"It is our vision that The Spa at Adare Manor will exceed expectation in design and guest experience," added Colm. "We have stayed loyal to the essence and history of Adare Manor, whilst creating a unique space within the original manor hose. The new Spa at Adare will offer exclusive La Mer treatments giving guests a multi-sensorial experience in a space that embodies the luxury and timelessness that is Adare Manor."
Set to unveil in autumn 2017, the Spa at Adare will debut the UK and Ireland's only La Mer Spa, making it one of the eleven La Mer Spas worldwide. Sitting within the heart of the Manor, the spa will be a secluded sanctuary, providing an unparalleled experience for relaxation and renewal.  From La Mer's transformational products to the exclusive treatments inspired by the sea, the spa will offer a unique and refreshing escape – all to rejuvenate the mind, body and skin.
"La Mer is excited to expand its spa business into Ireland in partnership with Adare Manor to bring the best skincare and indulgent treatments to their guests. Adare Manor is a leading luxury destination spa and will provide exceptional beauty treatments for the discerning guest looking for a transformative and revitalizing escape," said Sandra Main, La Mer Global Brand President.
The Spa at Adare Manor will offer unrivalled services to match the beauty of its luscious surroundings. With treatment rooms, manicure and pedicure salon, a relaxation area, hair salon, fitness centre and indoor swimming pool overlooking the River Maigue, it will be a jewel in the next chapter of Adare Manor's legacy.