Best Western Plus Wembley Hotel Joins the Best Western Great Britain Portfolio
Best Western Plus London Wembley hotel has become a member of Best Western Great Britain, the largest portfolio of independent and family-run hotels in the country.
With 181 bedrooms, Best Western Plus London Wembley Hotel adds to Best Western's impressive collection and takes its total number of properties to 258. The group's expansion drive is part of a wider strategy to introduce greater differentiation within the brand and offer customers more choice.
Best Western Great Britain currently offers guests the choice of four brands: Best Western, Best Western Plus, Best Western Premier and BW Premier Collection, with an increasing number of four-star properties represented in the collection.
Best Western Great Britain's Director of Hotel Services, Mirelle Maundre-Brown commented: "We're thrilled to welcome our newest member Best Western Plus London Wembley Hotel into the Best Western brand, the largest collection of proudly independent hotels in GB. The venue is superbly placed for business travellers and leisure guests alike, and with such a central location we are sure our customers will love this property. The Best Western Plus London Wembley Hotel is the third property owned by London Hotel Group to join the Best Western brand, which includes Best Western London Peckham Hotel and Best Western Plus London Croydon Aparthotel."
Work on the Best Western Plus Wembley Hotel was undertaken by PMP Construction Ltd and was a two year project that completed in September 2017.
PMP Construction Ltd is a forward thinking construction company based in London, serving London and the surrounding areas. The professionally managed company was formed by its two highly experienced managing directors who have over thirty years of experience in the construction industry.
Operating in the UK since June 2015 the company has quickly expanded its workforce and does not rely on agents and subcontractors. At present the company operates from one head office in Southgate, London separated into two divisions with the architects as one part and the engineers, accounts and purchasing departments in another section.
Speaking to Premier Hospitality magazine about working on the Best Western Plus London Wembley Hotel, PMP Construction Ltd Director Stelios Mylonas said: "It was a design and brief project in which we have done the whole 181 room scheme. It was based on two phases plus another eight floors above, totalling the site to 11 floors. The project was about 30% refurbishment and then the rest was new build. We had a very good relationship with the client and we were very happy to work with them again.
"We have worked with the client before when we did a Best Western in Croydon. We completed that site in January this year and that was a 107 hotel room scheme.
"At Wembley, for us, the basements were the biggest challenge. The excavation work in the basement was a challenge because it was a very tight site and we had to have conveyor belts taking soil to the road level.
"Conveyor belts don't work at the same speed as a normal escalator. It was a challenge but we like to take on challenges and find a way around them."
Best Western Plus London Wembley Hotel is a brand new hotel. Catering for the hundreds of thousands of leisure visitors and sporting fans who visit Wembley each year, the property has a sports and entertainment theme – a nod to the nearby Wembley Stadium and the SSE Wembley Arena. Conveniently located between two tube and mainline rail stations, the hotel also provides an ideal base for visiting the capitals countless must-see sights. The hotel features the onsite Pizzapolli Restaurant which showcases authentic traditional techniques with high-quality ingredients cooked in a wood-fired pizza oven.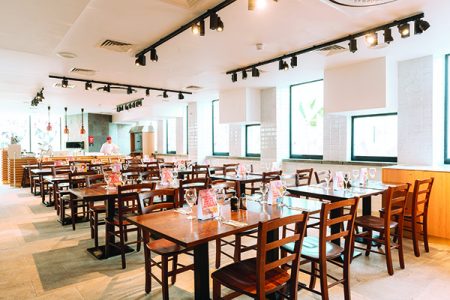 Double rooms at Best Western Plus London Wembley are available to book from £79.00.
For more information, visit: https://www.bestwestern.co.uk/hotels/best-western-plus-london-wembley-hotel-84216