Crieff Hydro
The self-catering units at Crieff Hydro in Perthshire, Scotland have recently undergone a full refurbishment to provide a home-from-home feel for guests. The self-catering units at Crieff Hydro are dotted around the 900 acre estate and bring guests right to the heart of the action.
Speaking to Premier Hospitality magazine about the project, In-House Designer at Crieff Hydro, Fiona Leckie said: "There are 13 units that we have refurbished. The units were originally an old farm on the estate, so they were converted from old steadings to 13 self-catering units, 11 in a horse shoe and two in the old farm house. They range from three beds to sleep eight, down to a one bed sleeping two."
The units were built in 2002/2003 and work on refurbishing them began in the hotel's financial year of 2016/2017. Eleven of the units are now complete, with the remaining two set to be completed in January 2017. Work on the bathrooms was completed by Laings and the units were designed by Comrie architectural firm James Denholm Partnership in 2002.
Fiona added: "We try and have a cycle every number of years to refurbish our units. They do get a soft refurb but these units have had a full refurbishment so we kept the footprint of the building and had everything refurbished, from the bathrooms to the kitchens and soft furnishings.
"The feel was to be in keeping with what fits the landscape, using natural stone and wood. The units are all different with the way they have been designed. The footprint was already there so some are similar but I don't think there are any two that are 100% the same.
"The guests have been really pleased. A lot of our guests are return customers so we try and listen to them and appreciate their feedback whether it is good or bad. We have 52 self-catering units in total so we would always work to the refurb cycle and, unless there was something majorly wrong with a unit before the cycle, we tend to look at the older units first. These cottages were due for refurbishment and the feedback we have had so far has been great and very welcomed."
Opened in 1868, Crieff Hydro started out as a hydropathic spa offering clean eating, outdoor gyms and hydrotherapy treatments – 19th century style. The hotel was officially a dry hotel until 1994 when the site's first bar opened, leading to numerous other changes to the site. The hotel's first self-catering lodges and cabins were built in 1998 and then Action Glen, the on-site outdoor adventure centre, was opened in 2003 followed by Big Country – the home of the hotel's legendary kids club. Altogether, £40 million has been invested into the hotel and its facilities in recent years.
"We couldn't refurbish all of these units at the same time as that would have affected revenue, and also there would have been a noise impact for guests staying close by. So, it has been a far more gradual process," said Fiona.
Crieff Hydro is part of a family of hotels across Scotland and the north of England with each hotel steeped in history or set within a historic location where guests can explore their surroundings.
Fiona concluded: "This project means a lot. We know as a company that we need to stay ahead of the times, not only for the sake of the units themselves but as a company. There is so much competition out there now in the self-catering category so we know that we have to invest in our product, and we are good at that. With such a high number of repeat visitors we have to always be ahead of the game and attract new customers.  This means investment is hugely important."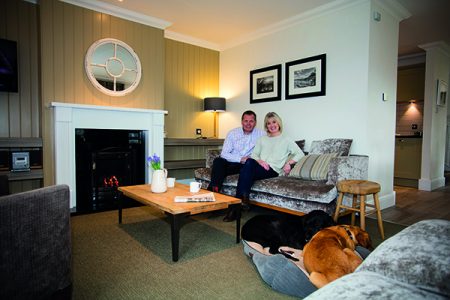 For more informations – www.crieffhydro.com