Staunton & Hughes
Based in Leeds, Staunton & Hughes is a leather specialist providing services to a range of clients including interior designers, architects, upholsterers, furniture manufacturers and the transport & automotive sector. Staunton & Hughes is one of the leading online suppliers of leather, offering a fast turnaround at point of sale and boasting an extensive knowledge of the global leather market.
Marcel Leader, Managing Director of Staunton & Hughes, said: "At Staunton & Hughes we can source, develop and design a multitude of bespoke leather products. Our understanding of our customers' needs helps us deliver the finest leather with outstanding customer service levels and we only work with the highest quality hides, supplying natural leather from a tannery in Italy.
"All our Leathers are inspected and tested to the highest possible standards, including Crib 5 as standard and IMO on certain ranges."
Marcel added:
"We are proud of our extensive leather collections and as Staunton & Hughes continues to grow, we are fully committed to maintaining that growth by reinvesting into larger stock levels and introducing new ranges.
"I want to show loyalty to our existing and new customers by supplying the highest quality leather at competitive pricing, whilst introducing new ranges rather than discontinuing ranges."
Upholstery and automotive leather
Staunton & Hughes' upholstery and automotive leather collections are the company's most comprehensive lines and include 90 colour variations, with 11 ranges specifically designed for residential and commercial use.
The upholstery leather line features durability and strength that will last for years to come, even in high traffic areas. A combination of tanning and finishing techniques creates remarkable leathers that showcase the natural beauty of Staunton & Hughes' leather for upholstery.
Meanwhile, the automotive collection is exclusively designed to meet strict automotive standards of excellence. This range is suitable for luxury automotive interiors, including custom cars and automobile restoration.
In addition, to an extensive leather range, Staunton &Hughes also supply two faux synthetic ranges, one being a PVC product with an extensive Pallett of 48 different colour ways and the other a PU product. These two products can be used within the upholstery and automotive sectors and are made possible due to Staunton & Hughes' talented leather technicians and top-of-the-line technology.
Marcel commented:
"Our extensive resources allow us to create and produce bespoke leather hides to fit your needs. Our capabilities include matching pantone colours, fabrics and vintage pieces."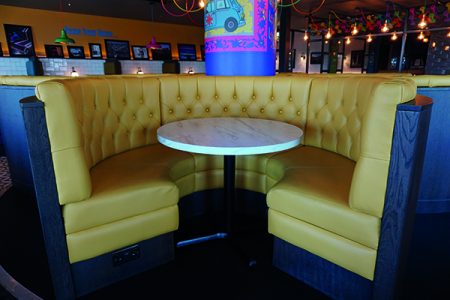 Quality and convenience
Over the years, Staunton & Hughes has built up an excellent reputation for quality and convenience, as well as that all important swift turnaround. The quality of the company's leather keeps customers coming back, as do the variety of finishes and the range of colours and textures.
Staunton & Hughes can offer custom colours at a low minimum purchase (just one hide) and the company's customer service is second to none. The customer service team can provide assistance throughout every step of the purchase, with competitive pricing to match.
Steve Ward, National Sales Manager for Staunton & Hughes, said: "Staunton & Hughes are your local leather supplier, from Lands' End to John O'Groats. Our difference is supplying, developing and designing natural, luxurious and durable leather, whilst focusing on 5-star customer service.
"We are committed to unlocking your creative potential and finding the right leather to create the look that our customers are striving for, making visions come to life."
Steve added:
"Our people truly believe in our values of hard work, a quality product and 5-star service. We encourage participation, cooperation and innovation, to provide our customers with a high-end product and the service that everyone deserves."
For more information please call 0800 1123 787 or visit: www.stauntonhughes.com.