Situated within the heart of the London Crossrail, Farringdon Station is an intrinsic piece in the Crossrail scheme.
The London Underground station – which is served by the Circle, Hammersmith & City and Metropolitan lines – is currently being developed to allow for the Crossrail project and once complete will include two new ticket halls to accommodate an expected increase in passengers.
Come 2018, Farringdon will be a key transport link for the nation's capital and will become one of the country's busiest train stations, with links to London Underground services, as well as Thameslink and Crossrail. Once work is complete on Farringdon, up to 140 trains will pass through the Farringdon interchange per hour. In addition, Farringdon will connect with three of London's five airports, including Heathrow and Gatwick, ensuring that it will become a destination facility in its own right.
Keen to find out how work is progressing on Crossrail Farringdon we recently caught up with Patrick Barry, the Construction Manager at Farringdon. Speaking to Rail Construction News, Patrick detailed the project's progress and explained Farringdon's importance in completing the Crossrail vision of a fast, reliable and accessible transportation network.
Patrick said:
"We are now well into our main works contract, constructing two ticket halls and the platform tunnels that run between them – which is unique amongst Crossrail. We are about 90% of the way through on the tunnelling element of the scheme and the ticket halls are fully excavated with construction making good progress.
"In essence, we are approaching the end of our civil engineering phase and once this is complete, we will move into the architectural and MEP phases of the project."
Work officially reaches completion on Farringdon in 2018, however as construction continues the project will become increasingly more connected to the overall Crossrail route.
Patrick said:
"As work progresses and we develop further we will become more and more connected with the rest of the Crossrail scheme. We have a large interface coming up this year – C305 the Eastern Running Tunnels contract – so we will soon be connected with the tunnels which run to the east. This will then be followed by the system wide contract, which includes aspects of the scheme which run along the length of the tunnel.
"Systewide will be taking possession of the tunnels to the west of Farringdon in October. We will then hand over the rail aspects of the platform tunnels in April next year."
Woking on Farringdon is a lengthy process and as such, as work has taken place on the project each year has brought new challenges.
Patrick commented:
"Two years ago the project was very much about ensuring that we were ready for the tunnel boring machines from the west. We had to excavate the shafts, we had to protect third-party assets and we had to monitor the ground. Last year however saw the project become much more insular – work was more focused on our progress on-site. We were working 24/7 with a considerable amount of production completed here at Farringdon.
"This year the project returns back to having a more external focus. We have the 305 tunnel boring machines coming – which we are very excited about – and we have already completed work on one reception chamber for the arrival of the first machine, with work well underway on the second."
Working on the Farringdon project is proving to be a very rewarding and fulfilling experience for Patrick, even though he still has some way to go before hand over.
Reflecting on the project so far, Patrick said:
"For me, the Farringdon project is similar to a project I worked on at St Pancras, yet I appreciate it a little bit more. What I mean by this is that when I worked at St Pancras on the CTRL project, I didn't quite realise how much I enjoyed being involved with the scheme. It was an intense project with its own unique challenges, but when I left I really missed it – the feeling, the buzz, the excitement of being on a scheme with such a legacy was something which I really enjoyed.
"When the opportunity to work on the Crossrail scheme came up I grabbed it straight away. It doesn't matter how difficult the work gets or how technically challenging it can be, I am determined to enjoy it every step of the way.
"The complexity of a project like this, which sees us constructing these huge underground stations which run the distance between Tube stations, is enormous, but very satisfying. The work that we are involved with will create facilities that will be here for a long time to come and that is something that I am very proud to be a part of."
Ultimate Ear specialise in custom-fit hearing protection and communication systems. During this project the team were asked to provide hearing protection and communication systems to ensure that the health and safety regulations were being fulfilled throughout the Crossrail project, and that all the workers had the correct protective earplugs suited to their needs.
A spokesperson from the firm commented:
"We assessed the noise levels and requirements of the workforce and advised Crossrail of the options that were available from our industrial range. We made up various sets of plugs for trial and after presenting these for testing Crossrail selected the products that best suited their needs.
"They chose two different types of plugs from our industrial range; one for just noise protection to bring levels down to a safe working environment and the other to enable the user to link to radio communications whilst still offering excellent noise protection."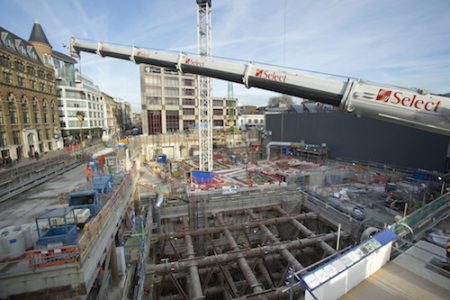 The firm then attended the various sites to take ear impressions of the operatives involved. The spokesperson added:
"It is important for engineering companies involved in the Crossrail project to be responsible employers and offer their staff the best hearing protection as noise damage to ears is irreversible. At Ultimate we set our standards high by aiming to provide the most comfortable and cost effective custom-fit ear protection available without any compromise on quality or service. Crossrail is the most prestigious engineering project of this century and Ultimate has been privileged to be involved with this."
Crossrail update: Victoria arrives at Liverpool Street
Tunnel machine Victoria – named after Queen Victoria who oversaw the birth of modern railways –has successfully broken into the eastern end of Liverpool Street Crossrail station. The breakthrough, 40m beneath the City of London, is part of Crossrail's longest tunnel drive, 8.3km from Limmo Peninsula, near Canning Town, to Farringdon.
Victoria joins her sister machine, Elizabeth, who arrived in January 2015.
Victoria now has 750m of tunnel to bore, before arriving at her final destination at Farringdon station this spring when Crossrail tunnelling will complete. Over 40km out of 42km of rail have now been constructed as part of Europe's largest infrastructure project.
Elizabeth and Victoria each weigh 1,000 tonnes, are 150m long and over seven metres in diameter. They are the last of eight Crossrail tunnel machines to have carved a route beneath London linking the West End, the City, Canary Wharf and southeast London.
Liverpool Street is one of 10 new Crossrail stations being built in central and southeast London. The new station will be located between London Underground's existing Liverpool Street and Moorgate stations, with connections to both.
Joint Venture Dragados Sisk is constructing the eastern tunnels between Pudding Mill Lane and Stepney Green, Limmo Peninsula and Farringdon, and Victoria Dock Portal and Limmo.
The station tunnels at Liverpool Street have been built by a joint venture comprising Balfour Beatty, BeMo Tunnelling, Morgan Sindall and Vinci Construction.
Crossrail update: Improvements at Harold Wood station
Network Rail has begun improvement works for the Crossrail programme at Harold Wood station.
The improvements to the station include a replacement footbridge over the tracks with new staircases to platform level; three new lifts to provide step-free access to every platform; and the creation of platform extensions to ensure that the station can accommodate the new, 200 metre long Crossrail trains.
The work is expected to take around 18 months to complete, with the platform extensions and the installation of platform lighting taking place until winter 2015 and the construction of the new footbridge running until early 2016. The construction of a temporary ticket office in station car park and demolition of old footbridge will take place in early 2016, whilst the installation of new lifts will run between spring and summer 2016.
Matthew White, Crossrail Surface Director said:
"Crossrail will provide a step change in public transport for people in Harold Wood – new trains, quicker journeys and a more reliable service. Crossrail and Network Rail has worked hard with Havering Council to make sure that any disruption during the works is kept to an absolute minimum for passengers and residents."
Councillor Robert Benham, Cabinet Member for Environment at Havering Council said:
"We are really pleased that work is starting on the Crossrail project and have been working with Crossrail to make sure that the work causes minimum disruption. These works mark the first step to exciting improvements at Harold Wood station and the arrival of Crossrail in the borough."
From 31 May 2015, when TfL takes over the Shenfield to Liverpool Street services, there will be staff at every station at all times that trains are running, better accessibility provision, full integration with TfL customer information channels and with TfL fares and ticketing.
TfL will also put in place a phased programme of deep cleaning and painting the stations and introducing help points, gate lines and better lighting and customer information. TfL will clean up the existing trains and refresh them inside and out within six months of taking over the services.
From 2017, a fleet of new, air-conditioned, 200 metre long trains will be introduced between Shenfield and Liverpool Street. The new trains will be able to carry up to 1,500 people and will be quicker, greener and more reliable than the trains they will replace.
From 2019, residents will be able travel right through the centre of the capital without having to change onto the Underground at Stratford or Liverpool Street. At peak times, there will be 12 services an hour to London and 12 services towards Shenfield.
Crossrail update: Green light at Hayes & Harlington
Proposals for a major overhaul of Hayes & Harlington station as part of the Crossrail programme have been approved by Hillingdon Council.
The distinctive new glass and steel structure will create a landmark station that will be much more visible and prominent than the existing station. A bright, spacious ticket hall will provide a more welcoming environment and a range of other improvements will be made to the station, including a new footbridge, a new waiting room on platforms 4 and 5, Platform extensions, new lighting and more.
The new building, designed by Bennetts Associates, will be situated immediately to the north of the existing station and will replace a commercial property currently on the site. From the end of 2017, the station will be run by Transport for London as part of London's integrated transport network.
Matthew White, Crossrail Surface Director said: "The new building will properly reflect the importance of the station to the area and, together with the broader improvements, will make using the station a much more pleasant experience."
David Laing, Studio Director at Bennetts Associates said: "It has been exciting to be involved in the design of the new station, introducing transparent, light and secure spaces for public use which should contribute to the further development taking place in the surrounding area."